If you have followed the @revolvinggarage Instagram, you may know that a 2014 BMW 328i M-Sport wagon is in the Revo Stable (pics here: BMW F31 Pics). One thing about this car, beyond it's excessive title, is that this era of 3-series came with several different brake options. There was the base model brake package, the the M-Sport "trim," the M-Sport "upgrade," and the M-Performance package. There is so much confusion as to what pads what owner should buy that Turner Motorsport created a very thorough very useful guide to help owners identify what brake package they had and, naturally, direct them to replacement parts.
My car (above) has what is called the M-Performance package. This is most aggressive option. It has the big slotted/dimpled rotors (370mm up front, 345mm in the rear), and Brembo calipers (4 piston up front, 2 piston in the rear). Finding the right brake pad for this car is challenging. There are generally three schools of thought:
OEM all the way - copious dust. The worst dust one can ever experience, but quiet and decent performance.
Ultimate performance - limited dust, but LOUD. This doesn't quite fit the "super street wagon" theme of this car.
Something in the middle - limited dust, quiet, decent performance, etc…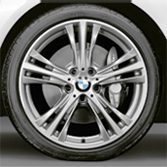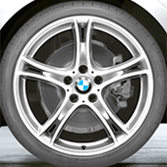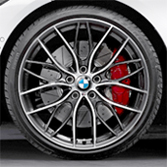 Something in the middle is the target, but getting there is a challenge. The forums are riddled with people - "real" experts and "forum" experts alike - who claim experience X with pad setup Y.  Hours of forum browsing has shown this to be hard to judge. The perception of dust and noise is heavily influenced by ones previous car and brake pad experience. All that could be said definitively was from my own experience: the OEM pads were far too dusty, and this had to be fixed.
The first try at a fix was to take the advice of a group of Porsche canyon carvers who jumped on Power Stop pads. I tried the Power Stop Z26. I was happy to find that they fit my caliper/rotor combo, that they were cheap, that they were available locally, and that they didn't dust. I aggressively bedded them in, as one should, and holy mother of god were they loud. Even with some basic maintenance such as re-greasing the pads, pins, and clips, the were still "loud AF," as the kids. After 10,000 miles of screeching hell, these pads had to go.
Now I'm on pad set #3 (set #1 being the OEM dust bombers, set #2 the loud as fuck Power Stop pads), the Hawk HPS 5.0. These came at the recommendation of "Doug" from Turner Motorsport (shout out Doug).
Again, the forums provided mixed reviews - lots of dust, no dust, some noise, no noise, subpar initial bit, great performance. At about $320 for fronts and rears, these priced in between the Power Stops ($200ish for the set) and CarboTech 1521 (about $525 for the set). So I thought I would give them a try.

A quick aside on the CarboTech pads - I ran the 1521 compound on my Golf R and I absolutely loved them. They are on the upper end of street pad price. Carbotech doesn't have this compound for the pad size the wagon required, but they can put any of their pad material on any backing plate. After a few emails, Carbotech said it would only take two days to make a 1521 compound pad that fit the M-Performance pad shape.
Back to my journey of swapping to the Hawk HPS 5.0 pads. The pad swap is incredibly easy with these brembo calipers. The pads are accessible from the back of the caliper and are held in by retaining pins/clips. That means you don't have to pull the caliper to replace the pads. I'm on day five of the having these pads and here are my initial impressions:
Feel

: More tactile feel compared to Power Stops (these pads sucked so bad).

Noise

: Quiet. Whisper quiet. Now I can more thoroughly enjoy the audible "hhhuHNGHH" from my passengers as their ribs compress during a demonstration the the M-Performance brakes. In the worst case scenario for brakes (cold just after a wash), they make a bit of noise of the first stop, after that: quiet.

Dust

: Will have to wait a few days to really see. 
CHECK OUT MORE ON REVOLVING GARAGE BELOW